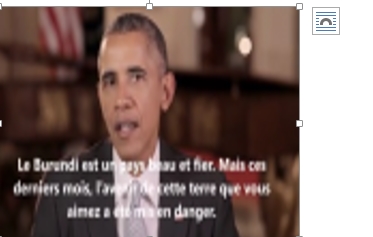 PRESIDENT OBAMA'S MESAGE TO BURUNDIANS

US President mourns for Burundian democracy trampled by Nkurunziza's regime increasingly isolated and that wreaks havoc in protest districts with over 230 people killed in less than five months
It is as if it was a wink to Burundian patriots to tell them that no one will stop these killings if they are not themselves.
But it is difficult to see the birth of a leader of social consensus, respected and loved by all Burundian oppressed, large and small, in a country once torn by an ethnocentric ideology which we cannot say it is completely eradicated.
In a video message to the Burundian people, US President asked to stop hate speech and to gather. He calls the Bujumbura authorities and the opposition to meet in the framework of a dialogue.
After months of crisis in Burundi, Barack Obama has decided to apply directly to the people of Burundi.
Since the White House, he explains that "Burundi is a beautiful and proud country. But in recent months, the future of this land you love has been endangered. "
Mr. Obama had harsh words against "leaders (who) have poured hateful rhetoric. Terrible acts of violence have claimed the lives of men, women and innocent children. Given the painful history of Burundi, we know where this kind of violence can lead. Today you have the chance to choose a different path. "
The US president said contact Burundians "as a partner and friend."
Obama asks "the leaders of Burundi (...) to set aside the language of hate and division. Respect your commitment to participate in a dialogue under international mediation outside Burundi. After all, the real strength lies in the ability to unite a country, not tear it.
The Burundian army is also affected by this message.
"For the soldiers of Burundi, you represent the possibility of Burundi to overcome divisions and unite. You are the son and daughters of Burundi. You helped to maintain peace across Africa. Now you can help keep the peace at home, staying out of political conflicts and protecting the people of Burundi. "


Finally, the US president a final message to the people of Burundi, whom he asks to unite in the interest of the country.


"To all Burundians, remember what you can accomplish when you stand together, how you came out of colonialism and have built a nation. After the civil war and struggle, you have worked to rebuild. You saw the possibility of a better and more peaceful future. Do not let the political rivalry or the voices of hate you remove it. You are one people, and now it is time to stand up against violence and begin the hard work of unity. The future of your country, the future you want for your children is in your hands. "


This resolution proposes to strengthen the "presence" of the United Nations in Burundi, which could lead to the deployment of peacekeepers to quell the violence.
Published by: Kagire Doreen
17th/11/2015